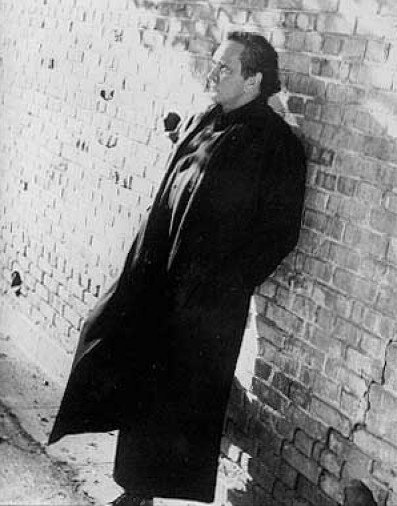 Johnny, We Hardly Knew Ye
2 1/2 years after his passing, the influence of legendary performer Johnny Cash still reverberates.
Johnny Cash was a drug addict, a man of God, an alcoholic, a thoughtful and kind- hearted soul, a jailbird, an admitted sinner and in the eyes of many, a saint. He was quick to expose his faults and foibles both in person and in song.
That's what made him so endearing, human and approachable.
Johnny's simple, ubiquitous tag line, "Hello, I'm Johnny Cash", may at first glance seem a bit generic. This humble introduction came to represent the straightforward style that was Johnny's trademark. It represented a man who wore his heart on his sleeve, was real and free from pretense.
---
"I wear the black for the poor and the beaten down, / Livin' in the hopeless, hungry side of town, / I wear it for the prisoner who has long paid for his crime, / But is there because he's a victim of the times"
- "Man In Black"
---
The careers of most music performers start with a big bang and then an eventual cooling off. Often it takes the form of several years of intense popularity followed by slow steady decline into irrelevance. Johnny seemed destined to follow this same pattern, especially in the 1980's when after thirty years, Columbia Records dropped his contract.
But in the 1990's Johnny's career magically resurrected. After being inducted into the Rock And Roll Hall Of Fame in 1992, the immensely popular rock band U2, long time Cash admirers, invited Johnny to sing on their 1993 album, "Zooropa".
Cash then recorded his own album, "American Recordings", in his living room accompanied by just his guitar. This album won a Grammy in 1994 and began one of the most monumental comebacks in music history.
Subsequent albums were met with equal success and critical acclaim. Like a fine wine, Johnny seemed to get better with age.
Nearing the end of his journey on this planet, Johnny's voice cracked under the stress of illness and a long, harrowing life. This added even more character to his songs, revealing the tenderness and vulnerability of a man who had come to find peace with God and himself.
At the age of 70, Johnny found himself nominated in seven categories at The MTV 2003 Video Music Awards for his cover of Nine Inch Nails' song "Hurt". Up against artists nearly 50 years younger than him, including 50 Cent and Eminem, Johnny took home an award and the recognition of a whole new generation.
Nine Inch Nails frontman Trent Reznor admitted that he was initially "flattered" but worried that "the idea [of Cash covering "Hurt"] sounded a bit gimmicky", but when he heard the song and saw the video for the first time, Reznor said he was deeply moved and found Cash's cover beautiful and meaningful. He later said in an interview, "I just lost my girlfriend, because that song isn't mine anymore."
"Hurt" went on to win both The 2003 Country Music Awards Single and Music Video Of The Year. The accompanying album won The 2003 Country Music Awards Album Of The Year.
In May of 2003, Johnny's longtime soulmate, June Carter Cash, passed away following heart surgery. Johnny was holding her hand when she died. Less than four months later, Johnny followed her. His passing was attributed to complications of diabetes, probably exacerbated by a broken heart.
Cash's song "Hurt", went on to win a Grammy in 2004.
In 2005, a movie based on Johnny's life, "Walk The Line" was nominated for 5 academy awards. In 2006, Reese Witherspoon won the Best Actress Oscar for her portrayal of June Carter Cash.
Johnny's music continues to inspire. The rock group Coldplay has added a tribute to The Man In Black on their current world tour. They are playing the classic, "Ring Of Fire" at their sold out shows.